About Valla & Valla Beach (NSW 2448)
A subtropical paradise between the mountains and the sea!
Valla and Valla Beach are small communities on the Mid North Coast of NSW, midway between Coffs Harbour and Kempsey.
You can enjoy the best of beach and bush with rural lifestyle acreage available within 1 kilometre of the ocean. Coffs Harbour, 39km to the north, provides all major services.
Valla is on the western side of the Pacific Highway and is home to those seeking a rural lifesyle. Its rich land is home to many Macadamia plantations, locally grown vegetables and fruit, and pastures.
Nearby state forests accommodate some mighty giants and have some lovely forest roads.
The area offers a variety of rural pursuits and enjoys a reputation for fishing, snorkelling opportunities, and some of the best surf on the north coast - just a small part of what this area has to offer, and all within an easy ½ hour drive from Coffs Harbour Regional Airport.
There is a community pre-school and a bus terminal for both public and school bus services.
Valla Beach, on the coastal side of the highway, is the place for those seeking solitude. There are miles of unspoilt pristine beaches that provide the perfect setting for slow leisurely walks, looking for shells, driftwood and interesting landforms, including a cave.
Valla Beach is bordered by Jagun Nature Reserve to the North, and both Valla Nature Reserve and Deep Creek to the South. These preserve the exquisite beachside atmosphere and the area includes a beautiful paperbark wetland that is declared as an Endangered Ecological Community (EEC).
Valla Beach is on Giinagay Way that was the old Pacific Highway until the Pacific Motorway bypass was opened in July 2016.
When travelling on the Pacific Motorway from the north take the Ballards Rd exit, approximately 8km south of Waterfall Way. From the south take the Nambucca Heads exit, cross over the highway, and follow the signs to Valla Beach.
The Coffs Harbour airport (35 minutes drive from Valla Beach) provides frequent direct services to/from Melbourne, Sydney and Brisbane and some other regional centres. Public buses operate from the airport to Valla beach (via a changeover in Toormina)
For transport options (including trains) see: Sydney to Valla Beach and Brisbane to Valla Beach.
Trains arrive at the nearby Nambucca Heads - Learn more.
From Valla Beach, a network of regular and school bus services operated by Busways provide access to schools from Macksville to Coffs Harbour including Bellingen.
Valla Beach has beaches to the north and south. Both beaches are quiet and uncrowded, perfect for beach walks either to Nambucca Heads or Hungry Head. Excellent conditions for fishing, experienced board riders, parasailing, sail boarding, sea kayaks, etc.
South Valla Beach- Patrolled only during Summer School Holidays.
Follow Valla Beach Road to the end.
Facilities include:
This is a No Dog Beach.
Public toilets and showers
Parking, including Disabled
Shaded and sheltered areas
Short bushwalks
Interesting rock formations and beach caves
Wide sandy beach
BBQs (Wood)
North Valla Beach - NOT Patrolled.
Follow Valla Beach Road and turn left into Henderson St. (2nd on left), then Cockburn St., and follow this to the Robert Lowden Park car park. It is then a short walk through the public reserve (across the wooden footbridge) to beach.
Attractions here include:
Pristine ''horseshoe'' beach stretching north to Wenonah Head and Hungry Head
Bushwalking in Jagun Nature Reserve
Lookouts – whale and dolphin watching in season
Beach Shower
Dog-friendly (heading north towards Coffs Harbour)!
North Valla Beach (Southside).
Follow Valla Beach Road and turn left into Gregory St. (4th on left) to a car park and walk down track to beach.
Attractions here include:
Pristine ''horseshoe'' beach stretching north to Wenonah Head and Hungry Head
Beach Shower
Dog-friendly only during certain hours so please check the signs!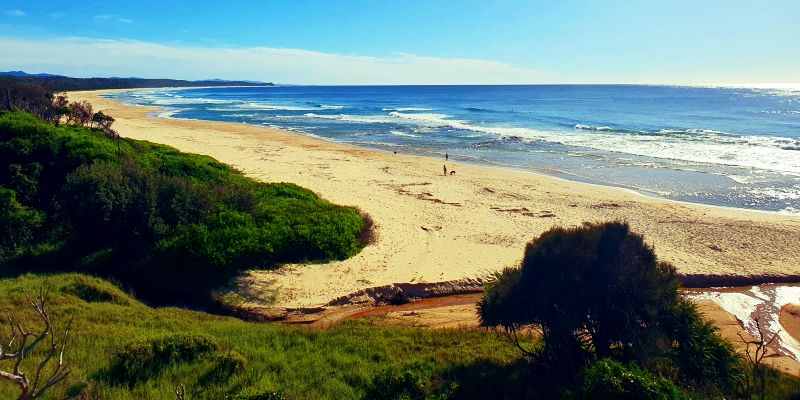 Deep Creek (South Valla Beach)
South Valla Beach (2 minute walk from accross the bridge, from the Markets)